Apricot Chutney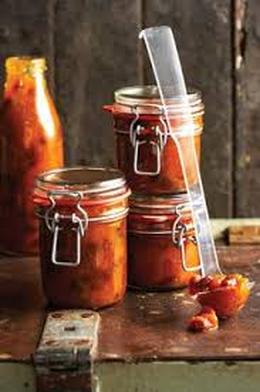 When the summer fruits are in abundance it is time to take to the kitchen and start preparing, preserving and bottling the harvest. Chutney is an ideal way to make the most of what is available.
This recipe is for apricots, but other fruits work equally well. Peaches and mixed fruits all make excellent chutneys - just be creative and trust your tastebudds. Using dried fruits and raisins, as well as herbs and spices, you can make your own unique chutneys to suit your taste.
Chutneys, properly sterilized and bottled, have an excellent shelf life and you will be able to savour the flavours of summer all year round.

---
Ingredients:
2 kg apricots, washed and seeded
300 ml red wine vinegar
300 ml brown vinegar
500 gr sugar (for a slightly sweeter chutney use 600 gr)
100 gr onions,finely chopped
40 ml ginger, finely chopped
15 ml garlic, finely chopped
15 ml salt
5 ml balck pepper, ground
15 ml cayenne pepper
10 ml mustard powder
1 pinch of ground cloves



Method:
Place all ingredients in a large pot and heat gently untill the sugar has dissolved.
Bring to a good boil over medium high heat, stirring occasionally.
Boil till fruit is fairly soft.
Blitz the chutney to an almost smooth, but still a little chunkey consistency.
Return to heat and boil untill a thick consistency.
Bottle immediately into sterilized jars and seal.

For a stronger chutney you could add chilli, more garlic as well as ginger.