Onion Marmalade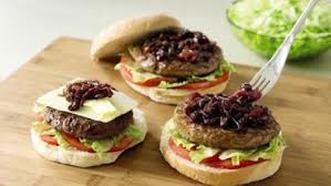 Onion marmalade is the perfect companion to a variety of dishes. It goes extremeley well with cold meats, cheeses and even in salads.
It will compliment and enhance almost any col meat, beef, chicken and pork. Served with chargrilled burgers it will turn it into something very special.
After opening this easy and economical relish will last up to two months in the refrigerator.

---
Ingredients:
600 gr onions, thinly sliced
120 gr brown sugar
125 ml red wine vinegar
50 ml balsamic vinegar
salt and freshly ground black pepper


Method:
Place onions and two tablespoons of the sugar in a large frying pan and heat gently until onion begin to caramelize. Add the vinegar and remaining sugar, stirr constantly untill most of the liquid has evaporated, about 15 minutes.
Season with salt and pepper and place in sterilised jars.
Once opened it will last for about two months in the refrigerator.