Bechamel (Basic White Sauce)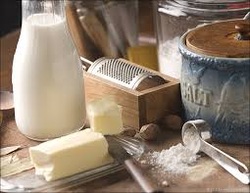 This recipe is the standard ratio for a medium thick sauce perfect for any pasta dish, to pour over vegetables and as a topping that can be grilled.
Add herbs, garlic or cheese to your liking and you will have a delicious velvety smooth sauce.
The recipe is for 1 liter of sauce, just adjust the quantities proportionately to make more or less sauce.

---
Ingredients:
1 lt milk
100 gr butter
100 gr flour
salt and pepper to taste, as well as ground nutmeg
herbs, garlic or cheese to your liking


Method:
In a saucepan melt the butter over medium heat. Add the flour and cook through for a minute or two, whithout browning the sauce.
Gradually add the milk whist whisking to keep it at a smooth consistency. Bring to the boil and boil gently for two or three minutes to cook through the flour.
Add salt and pepper, or herbs and cheese to your liking and cook through.
Use as a basic sauce for pasta dishes or as a topping for vegetables.