Valecia's Lamb Curry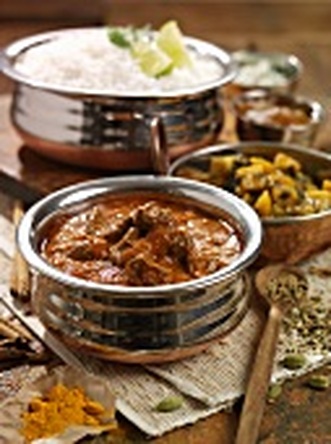 This recipe was given, or rather demonstrated, to my wife by Valecia. She worked for us and was married into a Malay family. We had to go to town specifically to buy the spices in the Bo-Kaap. At the time they all sounded very foreign, cardamom, barishap and jeera. But going into the spice shop to buy them changed our lives forever - the memory of the smells and aromas are as vivid as the day we went there for the first time.
When it comes to curries everyone has their own preference - from fragrant and flavourful to spicy and hot as hell. The Malay curries are much more subtle, fragrant and balanced that their Indian counterparts.
When buying spices, which are now widely available in even the supermarkets, buy smaller quantities - they do tend to lose much of their magic once ground and opened.
---
Ingredients:
1kg Lam - ribs, belly, shanks cut into slices. There must be a fair amount of fat, that's
where the flavour lies.
4-6 potatoes, quartered
1 large onion
4 cloves of garlic, finely chopped
2cm fresh ginger, finely chopped
1 large tomato, chopped
3-6tsp red leaf masala (depending on how hot you want it)
½tsp barishap (ground fennel)
½tsp jeera (ground cumin)
½ cinnamon stick
8 cardamom seeds, crushed
4 cloves
10 peppercorns
1-2tsp sugar
_____________________________________________________________________________________


Method:
Brown onion in a litlle oil until golden brown.
Add chopped garlic and ginger, fry a little and add tomato.
Allow to simmer for a while.
Add all the other dry ingredients and stir-fry till fairly dry and the flavours well developed.
Add a little water to release spices from pot.
Add lamb and cover with water.
Bring to the boil and simmer slowly until meat is very tender.
Add potatoes and cook till done.
Thicken sauce with flour mixed into a paste with water, cream or coconut milk.

Serve with basmati rice, a green salad, sambals of your choice, banana in a sweet mayonnaise sauce, chutney and coconut.