Creamy Butternut Soup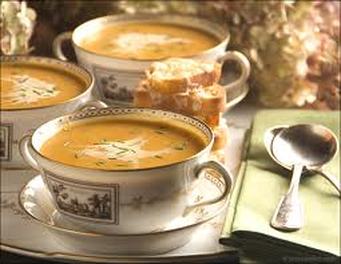 There are as many recipes for this all time favourite as there are cooks. This is a rich and creamy version with excellent flavour and a lovely golden yellow colour. The balance of spice and the mild orange and curry combination makes this a true winter warmer. As with many soup ingredients they are usually in season during summer when soup is hardly an option for the summer menu. This is however the time to buy fresh seasonal produce and stock up for the winter months ahead. The butternut cubes can be frozen until needed or the soup can be made as it freezes well.
---
Ingredients:
30 ml oil
30 ml butter
750 ml peeled and cubed butternut
2 onions
45 ml flour
10 ml curry powder (medium heat)
2 ml freshly grated nutmeg
750 ml chicken stock
250 ml cream or full-cream milk
1 orange (zest and juice)
salt and freshly ground black pepper
small dash of lemon juice.





_____________________________________________________________________________________

Method:
Heat oil and butter in a wide saucepan, Add butternut cubes and stir-fry for a few minutes to develop the flavour. Be careful not to burn the butternut, just a deep golden brown colour . Add onion and lower heat, fry until onion is translucent.
Add curry powder, flour and nutmeg and fry for a minute or two to develop all the flavours.
Add chicken stock, orange zest and juice and bring to the boil. Boil until the butternut is very soft. This could be 20-30 minutes depending on the age of the butternut.
Blend soup in a jug blender until very smooth. A stick blender will not get the soup as smooth. Add cream or milk to dilute mix until the desired consistency.
Check for flavour, add salt and pepper to taste. A small dash of lemon juice will enhance all the flavours.

Serve with chopped parsley, cream or croutons.