Chicken and Asparagus Potjie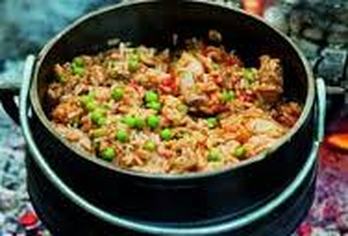 This creamy chicken recipe is ideal for entertaining family and friends. Try not to stir too much and don't overcook - it can very easily become a mushy mess. Chicken thighs, cut into halves and drumsticks make for a succulent dish.
Add the red peppers and green peas at the end of the cooking time to retain their texture, colour and taste.
Serve with a colourful crisp salad, it will balance the bland appearance of the potjie and offset the creaminess of the sauce.

---
Ingredients:
50 ml olive oil
16 - 20 chicken thighs and drumsticks (cut
thighs in half)
50 ml brandy
15 ml crushed garlic
2 onions
3 celerysticks (5cm long)
250 g spiral noodles (or medium shells)
15 small potatoes, peeled
2 sweet red peppers, cut into strips
250 g button mushrooms, cut into thick slices
1 cup frozen green peas
250 ml grated cheddar cheese
250 g bacon, cut into pieces
500 ml water

Sauce:
1 tin asparagus pieces, retain liquid
250 ml cream
500 ml water/white wine
1 pk instant cheese sauce
30 ml Aromat
30 ml mixed herbs
15 ml garlic/onion salt
1 pk cream of mushroom soup
ese
250 g bacon, cut into pieces
500 ml water
_____________________________________________________________________________________


Method:
Heat oil and brown chicken pieces evenly till deep golden brown.
Reduce heat and add garlic and brandy, heat for 5 minutes, stir regularly.
Sprinkle bacon over, then onion, celery and potato.
Add 500 ml water and cook gently for 30 minutes.
Add pasta, mushrooms, red pepper and peas.
Sprinkle cheese over.
Mix sauce thoroughly and pour over
Cover and cook at moderate heat for approximately 30-45 minutes until pasta is cooked.

Serve with a colourful fresh green salad, fresh bread and butter.