Osso Bucco Milanese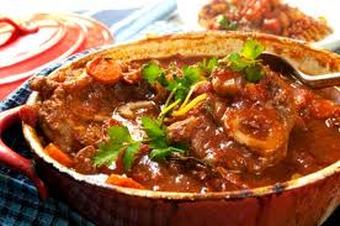 This is one of Italy's most famous and ever popular dishes. It is rich, full of flavour and a real winter warmer. The preparation is fairly easy and the slow cooking time in the oven gives you time to prepare the rest of the meal.
The dish can be made well in advance, stored in the refrigerator and simply slowly re-heated - ideal for entertaining.
Served with fresh green beans with a creamy garlic butter sauce and roasted almonds and silky smooth mashed potatoes it is fit for a king.
---
Ingredients:
4 Veal sahanks, cut into 2 cm thickness
2 cloves garlic, finely chopped
1 large onion, finely chopped
1 large carrot, diced
425gr tinned tomatoes
45ml tomato paste
5ml sugar
10ml origanum
3 bay leaves
1 stock cube,dissolved in a little water
200 ml white wine (red wine for a fuller and more robust dish)
salt and ground black pepper
flour to dust the shanks
oil for frying

Gremolata:
50ml finely chopped parsley
1 clove garlic, finely chopped
1 lemon rind, finely zested and chopped
_____________________________________________________________________________________


Method:
Wash shanks and pat dry. Salt and pepper the shanks and roll in flour. Shake off excess.
Brown shanks in a little oil till deep golden brown.
Place shanks in a casserole, side by side.
Fry onion and garlic till soft, add stock, wine, carrot, tomatoes, paste and sugar and bring to the boil. Simmer fir 5 minutes.

Spoon sauce over shanks, cover casserole and bake in pre-heated oven at 160°C. Bake for 2-3 hours untill shanks are very soft and tender.
Remove lid and bake open for another 30 minutes.

Gremolata: Zest and chop lemon rind finely.
Ghopp parsley and garlic very fine and mix with rind.
Sprinkle over Osso Buco when serving to flavour and as a garnish.

Serve with green beans and mashed potatoes.