Bacon, Mushroom and Zucchini Pasta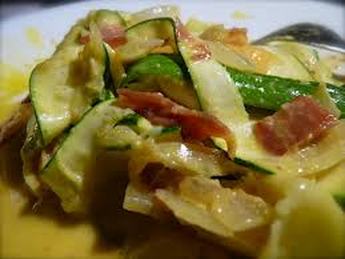 A delicate and flavoursome dish, with a wonderful curry cream sauce and with great visual appeal.
Prepare the individual components ahead of time and the final assembly can be done at the last minute. The bacon and vegetables can all be fried ahead of time, they will be reheated in the curry-cream sauce before tossed into the pasta. Serves 6 as main course.
---
Ingredients:
250 gr bacon
250 gr brown mushrooms, thickly sliced
½ red pepper, thinly julienned
1 small onion, thinly diced
1 tsp crushed garlic
6 - 8 medium sized Zucchini, sliced into large ribbons with a vegetable peeler
150 gr butter
30 ml flour
1 tsp medium curry powder
250 ml cream
250 ml milk (approx)
salt & pepper to taste, a touch of chili powder, a squirt of lemon juice.

500 gr penne, large

The zest of 1 lemon and chopped parsley for gremolata. Parmesan or pecorino shavings to top and garnish.
_____________________________________________________________________________________


Method:
Cut bacon rashers into thin strips, ± 1½ - 2 cm wide. Place them flat onto frying surface of a large saucepan, fry and turn until lightly crisped. Remove and keep aside. Fry chopped onions and garlic until translucent. Set aside with the bacon. Fry mushrooms until done. Add to bacon. Fry zucchini until almost tender. Remove and add to bacon.
Bring salted water to boil and start to cook the pasta until al dente.
Melt butter in the saucepan, add flour and curry powder and cook to a light roux. Add cream and some milk to make a thin white sauce. Season to taste. Add all the other fried ingredients to the sauce and heat through. Add more milk to make the sauce fairly thin, the cooked pasta will absorb quite a lot of the sauce. Pour over drained pasta and mix through gently.
Top with shavings of parmesan or pecorino, sprinkle with gremolata (chopped lemon zest and parsley) and serve with a fresh green salad.