Malva Pudding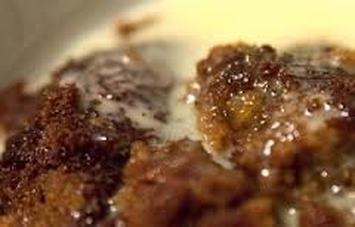 Although it has a Dutch origin, the Malva Pudding has become a truly South African traditional dessert. There are as many recipes as there are cooks, and all of them are delicious. It has become a firm favourite in many a cook's repertoire and served with custard, ice cream or whipped cream it is the perfect way to end a meal. This recipe is virtually fool-proof and the touch of caramel essence enhances the deep rich flavour - guaranteed to hit the sweet spot right on!
---
Ingredients:
200gr sugar
2 eggs
30ml smooth apricot jam
150gr flour
5ml bicarbonate of soda
2,5ml salt
15gr butter
5ml vinegar
100ml milk
2,5ml vanilla essence
2,5ml caramel essence

For the sauce:
200ml cream
100gr unsalted butter
150gr sugar
100ml hot water
_____________________________________________________________________________________


Method:
Beat he eggs and sugar until smooth and creamy, add the jam and incorporate while beating.
Sieve together the flour, bicarbonate of soda and salt.
Melt the butter and add the vinegar. Add the butter/vinegar mixture and the milk to the egg mixture alternately with the flour.
Beat well and bake in an ovenproof dish at 180°C for 45 minutes.
Melt together the sauce ingredients and pour over the pudding as it comes out of the oven.
Serve with custard, ice-cream or whipped cream.