Sweet and Sour Pork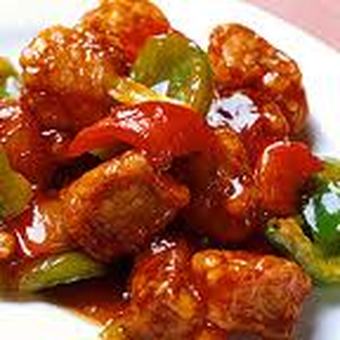 This must certainly be one of the tastiest versions of this well known Chinese dish. The preparation takes a little time, but it is certainly worth the effort. The sauce is well balanced and hits all the right notes.
To serve the deep fried pork it is usually served covered with the sauce, but this tends to take away the crispness of the batter if not served immediately. Serve the sauce on the side and dip or pour over the pork when eating - this will give a nice crunch to the pork.
When making this dish for a large group of people the fried pork can be kept warm in the oven without losing any off is crispness.
This recipe serves about 2-4 people and the sweet and sour sauce is almost enough for double the amount of pork and batter.
---
Ingredients:
Sauce:
1 onion, sliced
1 green pepper, seeded an sliced
1 small can pineapple chunks, juice reserved
oil for frying

30gr cornflour
100gr brown sugar
1,25ml salt
100ml cider vinegar or rice vinegar
1 clove garlic, crushed
5ml fresh ginger, finely chopped
90ml tomato sauce
90ml reserved pineapple juice

Batter:
100gr plain flour
60gr cornflour
7,5ml baking powder
2,5ml salt
15ml oil
water
250gr Pork fillet, cubed in 2cm dices.
_____________________________________________________________________________________


Method:
In a saucepan heat a little oil and stir-fry the onion, green pepper and pineapple chunks for 1-2 minutes. Remove and set aside.
Add all the other sauce ingredients to pan and slowly bring to the boil, stirring continuously until thickened. Simmer until completely clear.
Add vegetables and heat through.

To prepare the batter sift the flour, cornflour, baking powder and salt into a bowl. Make a well in the centre and add the oil and enough water to make a thick, smooth batter. Stir the ingredients in the well , incorporating all the dry ingredients until the batter is really smooth.

Heat enough oil in a wok or deep-fryer to fry the pork. Dip a few cubes into the batter at a time and deep-fry until done. Set aside on paper towel and continue until all is done.

Re-heat the sauce and pour over the pork, or serve the sauce in an individual dish on the side. Serve immediately