Bran Muffins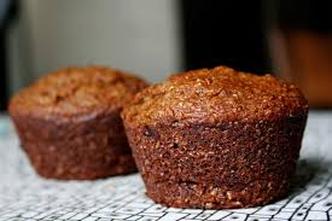 A good muffin recipe is something every homecook should have - they are great for almost every occasion. Be it sweet or savoury, or just for those unexpected times when you really have to whip up something in almost no time - we all need a reliable recipe.
This recipe is is as good as it gets - it is suitable for sweet or savoury toppings, is deliciously moist and it will certainly be your saving grace everytime you have to produce the famous plate of 'something sweet or savoury'.

---
Ingredients:
2 cups bran
1 cup oil
500 ml buttermilk
21/2 cups (400 gr) flour
2 eggs
11/2 cup (400 gr) sugar
2 tsp bicarbonate of soda
2 ml salt

Method:
Mix all ingredients together and rest for 30 minutes before baking.
Fill muffins pans 2/3 full
Bake at 200°C for ± 12 minutes or until done.