Steak Tagliata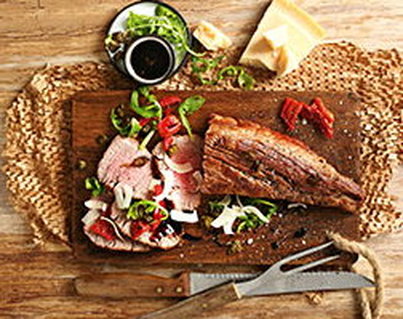 This is the perfect way to serve steak as a summer dish. It is vibrant, full of flavour and texture, and your steak will really go a long way.
The combination of the fresh salad leaves, beautiful mature camembert cheese and juicy steak - all drizzled with the buttery pan juices will take you to taste heaven.
Steak Tagliata is the perfect entertaining dish - just about everything can be prepared in advance. Grill the steak just before serving and you have a winning dish.
As with most summer dishes freshness and the best quality meat is essential. Serve with your favourite bottle of wine.​
---
Ingredients:
​200 - 250gr thick cut steak per person (sirloin, porterhouse or fillet works well)
62,5gr camembert cheese per person
125gr grilled mushrooms per person
salad leaves - a good selection of colour, taste and texture
olive oil
salt and freshly ground black pepper
mixed herb and garlic seasoning
steakhouse sauce of your choice
150gr butter

Variations:
Make this dish your own with all your favourite salad ingredients. Use olives, onion marmelade, roasted peppers, cubes of melon or marinated mushrooms to suit your personal taste.
A crispy baked potato with cream cheese will also go well as a side dish - all on the same platter. Dress it up to make it a truly impressive main course.
Serve with a crispy baguette or ciabatta to mop up the pan juices, and don't forget a seriously good bottle of red wine.

eMethod:
Prepare all your salads. Wash and dry them and spread them on a large platter or serving dish.
Season the steak with garlic and mixed herb seasoning, salt and freshly ground black pepper. Drizzle with a litlle olive oil and rub well into the steak. Turn the steak over and repeat the process. Leave for an hour or two to marinate at room temperature.
When ready to serve heat a griddle pan to medium high heat. If the steak has a good layer of fat grill the fat side first to render some of the fat and cook through. Turn the steak flat on the griddle and grill for a few minutes until nicely charred.Turn over and grill. When medium rare take of the heat and set aside to rest for a few minutes.
Melt the butter and a little basting sauce in the pan incorporating all the grilled flavours.
Slice the steak in 2cm diagonal slices and place on the salad. Drizzle the butter, basting sauce and pan juices over the steak and salad.
​Finally garnish with the wedges of camembert cheese.
______________________________________________________________________________________