Bran Rusks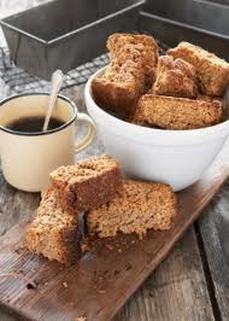 This recipe of my wife is an all round family favourite. It has a good crumbly texture, is easy and economical and tastes great.
As a variation you can add sunflower seeds and raisins.

Double the recipe as it stores quite well, and you will certainly want to give some away as a present for someone special.

Keep the cookie jar or cake tin full for those unexpected moments when you haven't got anything else to serve.
---
Ingredients:
1250 ml wheat bran (5 cups)
1 kg self raising flour
7,5 ml salt
500gr margarine
500 ml sugar
500 ml buttermilk (500ml full cream milk with
10ml lemon juice is a good
replacement)
85 ml oil
15ml baking powder.
_____________________________________________________________________________________


Method:
Preheat the oven to180°C.
Mix bran, flour and salt.
Melt margarine and add sugar. Stir in oil and mix well. Leave to cool slightly.
Stir in buttermilk (or milk/lemon juice mix).
Mix well with the dry ingredients.
Press mixture into prepared baking tray and bake for 1 hour.
Remove and break or cut into individual pieces.
Dry in oven at 100°C for approximately 4 hours.