Baked Chocolate Pudding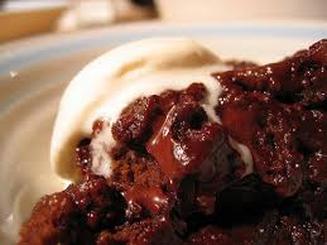 This is every chocolate lover's dream - rich, crumbly and ever so gooey!
The batter has an intense chocolate taste with a good texture and the sauce is really rich, sticky and very yummy.
Serve with vanilla ice cream or whipped cream, or just eat it as is.




Ingredients:
Preheat oven to 180°C. Baking time: 30 minutes.
Batter
200ml sugar
100gr butter
1large egg
½ tsp vanilla essence

250ml cake flour
90ml coco powder
3tsp baking powder
5ml salt
175ml milk

Cream butter and sugar, add the egg and essence. Beat well.
Sift together all dry ingredients.
Add dry ingredients and milk alternately to butter mixture while beating.
Spoon batter into greased baking dish.

Sauce
375ml water
100ml coco powder
250ml sugar

Mix together in a pot and bring to the boil.
Gently pour over the dough.
Bake for 30 minutes in a moderate oven . 170° -180°C
The pudding must still have a wobble in the centre - it will set while cooling slightly before being served and have a good sauce at the bottom.

---