Waterblommetjie Bredie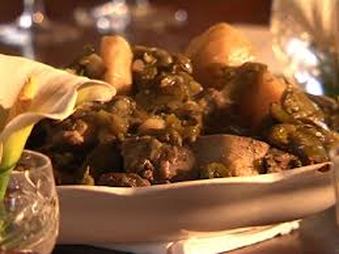 Being very seasonal this wonderful vegetable is much under rated and sometimes almost forgotten. C. Louis Leipoldt's recipe in his book on Cape Cookery fortunately preserved this iconic dish till this day - there are few recipes more true to Cape Cookery than a hearty waterblommetjie bredie.
Choose well developed blommetjies when buying. They should be dark green with a blush of pink on the tips - fully developed but not hard and woody. Preparation of them for a bredie requires nothing more than a good wash in cold water, just to get rid of anything that could be stuck to them. Cooking time is slightly longer than that of green beans, and they should be really tender before serving. Knowing them mainly as an ingredient for a perfect bredie, they also make an excellent soup similar to broccoli.
---
Ingredients:
1 kg stewing beef
1 kg lamb ( rib cutlets and flank with a fair amount of fat are excellent)
1 beef stock cube disloved in 500 ml water and 500 ml dry white wine
2 onions cut into slices
1 Granny Smith apple, finely chopped, or a good squeeze of lemon juice
2 tsp freshly chopped Winter Savoury
Salt and pepper to taste
8 large potatoes





_____________________________________________________________________________________

Method:
Wash and cut the meat into fairly large pieces.
Heat a little oil in a heavy based casserole and brown meat well on all sides. Remove meat and set aside.
Fry onions untiljust beginning to brown, add meat and stock and flavour with salt, pepper, apple and winter savoury.
Place casserole in a 160°C oven and cook for about two hours until the meat is really tender. Add potatoes and waterblommetjies and return to the oven for another 30 minutes or untill potaoes and blommetjies are soft.
Remove from the oven and if a little too watery place casserole on the hob and thicken the sauce with a paste of flour mixed with water, milk or cream for a really rich dish.

Serve with rice, sweet potatoes in a buttery glaze, or roasted butternut - and of course a chilled white or even a robust red wine. Enjoy!