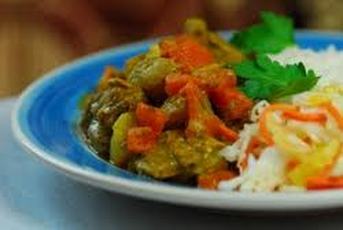 Forget about all the stories and rumours you have ever heard about 'poor farmers' eating 'smelly goat'. Farming and breeding Boer Goats have given us the privilege to have access to this wonderful meat. A young fattened whether (castrated male) of 34-40 kg is as good as it gets. The meat has the flavour of mutton, but the texture of lamb. It is truly delicious - and just about the healthiest meat you can find. In South Africa it is not widely available but certain upmarket supermarkets do supply it under the french name 'Chevon".
---
Ingredients:
1 kg Goat Meat cut into cubes
60 ml lemon juice
2 tsp crushed garlic
2 tsp crushed ginger
3 spring onions
1 scotch bonnet (½ tsp ground chilly)
1 large onion
2 peppers (Green, Red)
2 tomatoes
3 sprigs of thyme
3-6 tsp Marsala
1 tsp All Spice

½ cup vegetable oil
3 tsp Marsala
_____________________________________________________________________________________


Method: .
Wash meat and drain. Peel and chop onions, spring onions, tomatoes and peppers. Add all other ingredients to meat, mix well and leave to marinate for 24 hours or overnight. .
In a deep pot heat ½ cup of oil. Take 2-3 tsp of marsala and burn till brown. Deglaze with a little water..
Add marinated meat mixture and heat slowly. Add liquid as necessary. Let it cook and simmer until meat is tender. .

Serve with Basmati rice, sambals and salads.