Peppermint Crisp Tart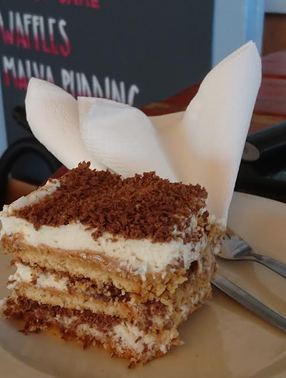 A really easy version of this almost old fashioned tart. The balance between the sweet caramel, peppermint crisp chocolate and the generous amount of cream makes this version one of the best.



Ingredients:
2 x 200gr Tennisbiscuits (Coconut biscuits)
2 x 150gr Peppermint Crisp chocolates
2 tins caramel
500ml cream



Method:
Whip the cream to form stiff peaks.
Grate the chocolate finely.
Place a layer of Tennis biscuits, about 3x5 biscuits, in a single layer in a fairly deep tart dish.
Spread a layer of caramel over the biscuits (1 tin)
Spread half the craem over the caramel (250ml).
Sprinkle the grated chocolate (1 slab) over the cream.
Repeat with a second layer of biscuits, caramel, cream and chocolate.
Place in the refrigerator, preferably overnight or longer, for the biscuits to slightly soften.

Siena does her tart in three or four layers, but my home version only has two, but it is equally good.
---