Zucchini Fritters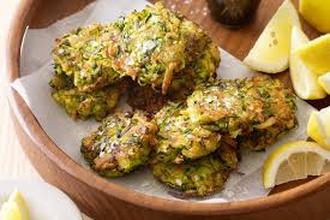 Zucchini fritters are delicious. They makes an excellent side dish to go with chicken, fish, red meat or pork. You can spice them up to go with the more robust dishes, or just enjoy their subtle flavour as is.
The fritters will keep well in the fridge for a few days and can just be reheated whenever needed. Served on their own with a little cottage cheese and a side salad, they make a lovely light lunch. For a more substantial meal you can add fried mushrooms, bacon or cooked chicken to the mix before frying.

---
Ingresients:
500 gr zucchini, coarsely grated
125 ml self raising flour
125 ml parmesan, finely grated
1 large onion, finely sliced or diced
1 egg, whisked
75 ml parsley, finely chopped
10 ml oregano
5 ml salt
2 ml ground nutmeg
olive oil for frying the fritters



Method:
Wash the zucchini and trim the ends. Coarsely grate the zucchini. Place in a colander and squeeze out as much excess moisture as possible. Transfer to a bowl. Stir in self-raising flour, parmesan, shallots, egg, parsley, oregano, salt and nutmeg.
Heat a little olive oil in a non-stick frying pan over medium-low heat. Drop zucchini mixture into pan, the amount depends on the size of the fritter you want. I use egg rings and fill them to the top - this gives a nice size and thickness.
Cook for 2 -21/2 minutes on each side or until golden and cooked through. Transfer to a plate lined with paper towel. Repeat with more olive oil and the remaining zucchini mixture.