Vol-au vents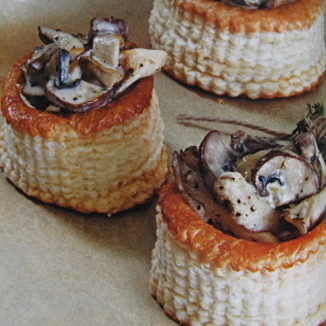 These hollow pastry cases are the ideal way to present a variety of savoury fillings as a starter. They look amazing and taste delicious - what more could you want?
The possibilities for the fillings are almost endless. Creamy mushrooms, spinach and feta, anything with bacon, smoked fish in a bechamel sauce, chicken in a sherry crream and whatever else you can dream up - it will be a success.
To make the perfect Vol-au-vents you need a recipe that won't let you down, and there is no better than Michel Roux's.
Recipe: Rough Puff Pastry
Method:
You will need one batch of Rough Puff Pastry.
To make the Vol-au-vents you have to roll ou the pastry to about 20x40cm. Divide the pastry into two portions, one a third of the pastry and one two thirds of the pastry.
The lesser amount will be the base of the pastry cases and the larger amount will be cut out to form the sides of the cases and give it a good rise.
Roll both pieces of dough to about 20x40cm. With a cutter of your choice, large, small, round or square you can now cut the bases. The amount of bases depends on shape and size of your cutter.
Do exactly the same with the thicker top layer, but cut out the centre pieces as well. You should leave a frame of about 8-10mm otherwise it becomes very difficult to handle.
Brush the bases with beaten egg and carefully place the cut out frames on top. Brush them with egg, but be careful not to let the egg run over the top and down their sides. This will prevent them from rising.
Place the Vol-au -vents on a baking plate covered with baking paper. Chill them for 20 minutes before baking in a hot oven at 200°C for 15-20 minutes.
Puff pastry bakes better and more evenly without a thermofan, especially the individual cases, they rise better and do not tend to fall over as much as in a thermofan.

Your little beauties are now ready to be filled with any delicious filling that you can think of - this is your time to be super creative and original.

The Vol-au-vents can be baked a good day or two ahead of serving. Let them cool and store them in an airtight container. They do well if reheated in the oven at a moderate temperature for a few minutes.



---