Vetkoek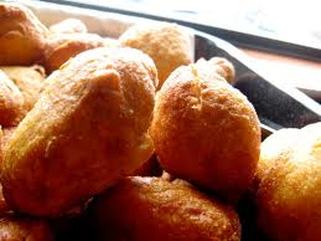 This all-time favourite has almost been forgotten. It is easy, economical, has endless variations and is delicious. Making the dough is easy and the proving time gives you time to come up with a filling of your choice. The traditional filling will be a savoury curry mince, but the possibilities are almost endless.
Shaped well they are ideal to make excellent burgers, or you can fill them with anything from baked beans to left over chicken.
To end the delight serve the last ones drenched with butter and golden syrup - your family will love them!
---
Ingredients:
750 ml Flour
5 ml salt
12,5 ml sugar
1 pckt yeast
15 ml olive oil
250 ml lukewarm water

Method:
Sift the flour, sugar and salt together.
Sprinkle the instant yeast over.
Add olive oil to lukewarm water and mix well. Add to the dry ingredients and mix well.
If you have a Kenwood or similar use the dough hook and start kneading for 5 minutes at a medium low speed. By hand works equally well - good excercise and very therapeutic!
Cover with clingfilm and leave to prove for twenty minutes or untill doubled in size.
Knock down and divide in eight to twelve balls, depending on how large you want them.
Dust your hands with flour and shape the round balls. Flatten the slightly and poace on a lightly floured tray.
Cover with greased clingfilm and leave to prove for twenty minutes.
Heat 2-3 cm of oil in a frying pan to medium high heat.
Place the vetkoek gently in the pan and fry till deep golden brown. They must be crispy on the outside and cooked through.
Cut in half, butter well and spoon the filling of your choice onto the halves. They are best eaten as soon as possible.