Green Bean, Red Pepper and Cashew Salad with Sweet Indonesian Soy Dressing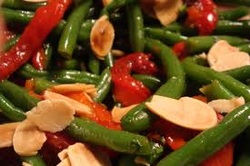 This almost Asian salad has become a firm favourite at our family table. The green beans must be young, tender and very fresh.
The salad can be made a day or two in advance as it tends to develop more flavour if left in the refrigerator for a few hours.
Serve with any meal of your choice, especially a braai - the tangy sauce goes exceptionally well with chicken - enjoy!
---
Ingredients:
400 gr fresh green beans
1 large onion, very finely chopped
1 large red pepper, julienned
chilli, finely chopped (optional)
50-100 gr roasted and salted cashew nuts, split in halves (or as much as you like)

Dressing:
175 ml sweet indonesial soy sauce
50 ml olive oil
5-10 ml sesame oil (taste before adding more, it can be overpowering)
10 ml finely crushed garlic
5-10 ml lemon juice
15 ml honey
salt and pepper to taste



Method:
Steam the green beans untill just done, they must still be crispy. Refresh immediattely in cold water to retain their crunch and colour.
Chop the onion and julienne the red pepper.

Mix all the ingredients of the sauce, whisk well to emulsify. Taste and adjust the seasonings - it must have a good balance of sweet, sour and salty.

Place the vegetables in a bowl and pour the sauce and nuts over. Mix lightly to cover all the beans with some of the sauce. Before serving toss the salad again for an even coating of the sauce.

For an authentic Asian flavour you can add the very finely chopped chilli to you liking - it gives the salad a lovely bit of heat.