Coronation Chicken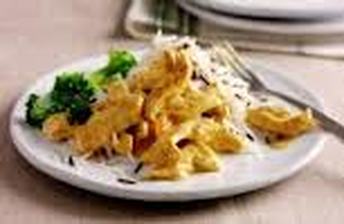 There are many variations and recipes for this iconic British dish created by Rosemary Hume in 1953 for Elizabeth II's coronation lunch. Most chef's have their own version, but they are all very close to the original.
For a leaner version only chicken breasts can be used, but the thighs and drumsticks make for a far more moist and tasty dish. Leaving the skin on or taking it off is entirely optional.
It is equally successful served hot as a main or cold as a light lunch or as a salad. Prepared well in advance and refrigerated overnight will enhance and blend all the flavours. Serve hot with rice and a green vegetable or salad, or as a cold dish with a green salad, or part of the salad itself. This is a large recipe and can serve at least 10-12 people. Any leftovers are ideal for a picnic and also makes the most delicious sandwiches.
---
Ingredients:
16 Chicken portions (two whole birds)
1 chicken stock cube
500 ml water
125ml white wine
5ml mixed herbs
1 carrot, roughly chopped
1 onion, roughly chopped
5ml salt
3 peppercorns

Sauce:
15ml oil
2 onions, finely chopped
15ml curry powder
10ml tomato paste
125ml red wine
250ml chicken stock (reserved from poached chicken)
1 bay leaf
5ml zested lemon rind, finely chopped
15ml lemon juice
15ml apricot jam
salt and a pinch of cayenne pepper
250ml thick mayonnaise
125ml cream, whipped
_____________________________________________________________________________________


Method:
Place the chicken in a large pot with the dissolved stock cube, white wine, mixed herbs, carrot, onion, salt and peppercorns. Poach the chicken for 45 minutes until tender and done. Leave in the liquid to cool.
De-bone the chicken portions and cut into pieces. The skin may be discarded or kept.
place bones and skin back into the pot and bring to the boil to make a flavoursome stock.
Sieve stock and use in the sauce recipe below.

Heat the oil and lightly fry the onion for a few minutes.. Add the curry powder and fry for another minute or two. Add the tomato paste, wine, chicken stock and bay leaf. Bring to the boil and add the lemon rind, juice, cayenne pepper and apricot jam. Simmer for ten minutes and strain, leave to cool. Gradually add the cold sauce to the mayonnaise. Fold in the whipped cream.
Pour sauce over chicken and refrigerate till needed - it becomes better if left overnight.

As a cold dish it can be served with a green salad and fresh baguette.

For a hot main course serve with rice and a green vegetable or salad of your choice.