Bolognaise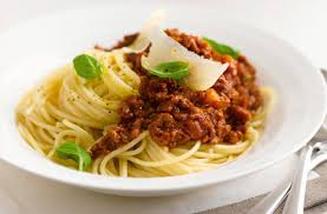 A good bolognaise recipe has been many a cook's saving grace. This recipe is certainly one of those. Made in bulk it will save you a lot of time when you need to prepare a meal in a hurry. It is a rich and tasty sauce suitable to be served with spaghetti, in a lasagna, on a bunn for a Sloppy Joe or as a savoury filling for pancakes.
This is quite a large recipe, so freeze it in portions to suit your needs, and simply defrost it when you need it.

---
Ingredients:
2 kg mince (regular, not lean)
30 ml oil
250gr rindless bacon, finely diced
6-8 medium onions
10 ml crushed garlic
4cups carrot, finely grated
250ml celery, finely chopped
3kg tomatoes, finely diced
500ml red wine
500ml beef stock
10ml sugar
60ml fresh sweet basil, chopped (20ml dried)
15ml seasoned salt
5ml freshly ground black pepper
60ml flour

_______________________________________________________________________________________


Method:
Use a large heavy based pot. Fry the diced bacon on medium heat in the oil until crisp. Add the onion and fry until lightly browned. Add the garlic and sauté for 10 minutes.
Bring pot to a high heat, add the mince and fry whilst breaking it up to crumble.
Add all the other ingredients, except the flour, and bring to the boil.
Reduce the heat and simmer gently for 1½-2 hours.
Mix the flour with a little water to form a smooth paste and stir into the bolognaise. Allow to boil through for 5 minutes.
Taste and adjust the seasoning if necessary.
This recipe freezes very well. Allow the remaining bolognaise to cool and freeze it in 500gr portions for later use.