Pork Schnitzel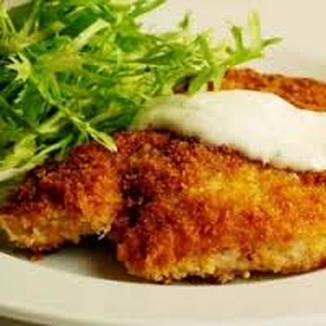 This must be one of Germany's most loved and famous dishes - you will find it in the most elegant restaurants right down to the local Hofbrauhaus. Similar to the iconic Wiener Schitzel (made from veal and very Austrian) the German version is in some ways superior - especially when it comes to flavour.
Pork is a very economical meat and the cuts suitable for this dish do not have to be the most expensive. Any cut without sinew (and a layering of fat for extra flavour) will just be perfect.
Quick, easy and economical is about as good as it gets when you are in a hurry, have to beat the budget, and still be the star cook in the house!

---
Ingredients:
4 pork schnitzels
1 egg well beaten
corn crumbs
salt and pepper


Method:
Pound the pork schnitzel to approximately 1 cm thickness with the smooth side of a mallet.
Salt and pepper the schnitzels to taste.
Brush with the beaten egg and coat with the corn crumbs.
Repeat the egg and crumb coating for a thicker crust.
Leave to rest in the refrigerator for 30 minutes. This sets the crumbs and will prevent them for coming undone during frying.
Fry the schnitzel in shallow oil over a moderate heat- they must be cooked before the crust browns too much.
Drain on kithcen towel and serve with fresh lemon, mashed potaoes or fried chips,and a green salad.