Zucchini and Mushrooms in Cream Sauce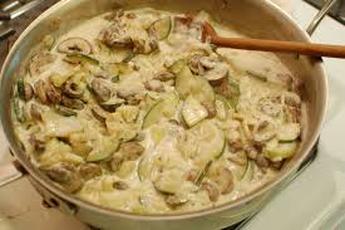 Zucchini (Courgettes or Baby Marrows) are often overlooked and underutilized. They have a wonderful delicate flavour and combine well with a range of other ingredients. Cooked until just done they are truly delicious.
This recipe combines them with the earthy flavours of mushrooms and makes for a luxurious dish with the cream sauce - good enough to just serve as a pasta sauce or a side dish to compliment any meal.

---
Ingredients:
500 gr zucchini
250 gr mushrooms
75 gr butter
2 ml crushed garlic
60 ml water
30 ml flour
250 ml sour crream
salt and freshly ground black pepper
parsley, finely chopped for garnish
_______________________________________________________________________________________


Method:
Wash the zucchini and clean the mushrooms. Cut the zucchini into 1-2 cm slices and slice the mushrooms.
Melt the butter in a large frying pan and add the garlic, zucchini, mushrooms and water. Stir and cook until just done - about 5 minutes.
Remove from the heat. Mix the flour and cream thoroughly and add to the pan. Stir to a smooth consistency.
Reheat until the sauce thickens. Add salt and pepper to taste.
Garnish with chopped parsley.