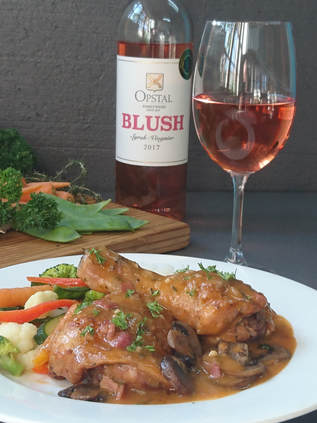 ​
Coq Au Vin
Two Versions of an Iconic French Dish
Coq au Vin is a traditional French peasant dish. The tough old farmyard rooster was braised in red wine for hours until it rendered itself into tender submission. This resulted in a rich, robust, hearty and very flavoursome dish.
Julia Child took this peasant dish and transformed it into the iconic French classic as we know it today. This has also revolutionized the method of cooking with wine; not only to be enjoyed with a meal, but as an integral ingredient and base of the dish itself.
​Unfortunately we do not nowadays have ready access to mature free range chickens. The supermarket versions are slaughtered at a very young age, resulting in virtually no texture or flavour. Supermarket chicken cooks in no time compared to the slow cooking for hours of a old fashioned rooster. This leaves a problem as to how to get the maximum flavour into the bird with such a short cooking time. Marinating the chicken for as long as possible will impart a lot of flavour for which this dish is so well known for. This calls for a different type of wine and cooking method altogether. The classic recipe is made with a full bodied red wine, but the other lighter, but equally delicious version, calls for a Blanc de Noir, Blush or Shiraz Rose.
Today it has become quite a refined dish with as many variants as there are chefs.
Recipe: Coq au vin Blanc
​Recipe: Coq au Vin Rouge