Moroccan Slow-cooked Lamb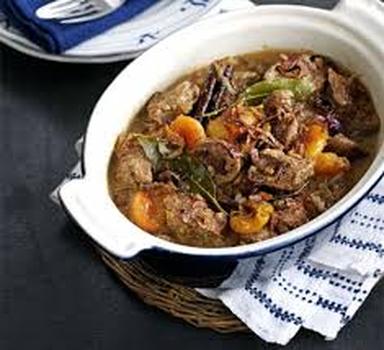 This is the perfect entertaining dish - the well-balanced full flavours will certainly satisfy most palates. It is spicy, has warm aromas and just enough bite to take you straight to Morocco. It can be cooked on the hob, but also works perfectly well in a 'potjie' over the coals - this makes for great outdoor entertaining. All it needs is enough time, good friends, ice cold beer or a seriously good bottle of wine or two.
With the festive season upon us this is a great 'go to' recipe to entertain and treat family and friends.
For this dish you will need really good quality lamb with a fair amount of fat. A mix of shoulder of lamb cut into pieces, shanks cut into pieces and ribs work well. Mutton could also be used - it has much more flavour, but will need a longer cooking time.
Served with a mix of roasted vegetables and rice - basmati works well - it makes a wonderful dish. A dash of yoghurt or chutney on the side will also enhance the overall gastronomical experience.
When doing it as a 'potjie' a good 'potbrood' will also be a good accompaniment - just to mop up the delicious sauce!

Serves 4

---
Ingredients:
1 kg trimmed boned lamb cut into5 cm pieces(bones could be left in, just increase the weight accordingly)
15 ml ground cumin
10 ml ground coriander
5 ml salt
5 ml fennel seeds
2,5ml cayenne pepper
2,5ml ground black pepper
60 ml olive oil, divided
1 large onion, finely chopped
15 ml tomato paste
2 cups low-salt chicken broth
1 can chickpeas, drained (optional)
1 cup dried apricots/peaches
2 large tomatoes, chopped
2 cinnamon sticks
15 ml minced peeled fresh ginger
10 ml grated lemon peel
30 ml chopped fresh coriander
_______________________________________________________________________________________



Method:
Mix first 6 ingredients in large bowl. Add lamb and toss to coat. Heat 2 tablespoons oil in heavy large skillet over medium-high heat. Working in batches, add lamb to skillet and cook until browned on all sides, turning occasionally and adding 2 more tablespoons oil to skillet between batches, about 8 minutes per batch. Transfer lamb to another large bowl after each batch.
Add onion and tomato paste to drippings in skillet. Reduce heat to medium; sauté until onion is soft, about 5 minutes. Add broth, chickpeas, apricots, tomatoes, cinnamon sticks, ginger, and lemon peel and bring to boil, scraping up browned bits. Return lamb to skillet and bring to boil. Reduce heat to low, cover, and simmer until lamb is just tender, about 1 hour. Uncover and simmer until sauce thickens enough to coat spoon, about 20 minutes. Season with salt and pepper. (Can be prepared 1 day ahead. Cool slightly. Refrigerate uncovered until cold, then cover and keep chilled. Rewarm over medium-low heat, stirring occasionally.)
Transfer lamb and sauce to bowl. Sprinkle with coriander and serve.