Chaddy's Savoury Tart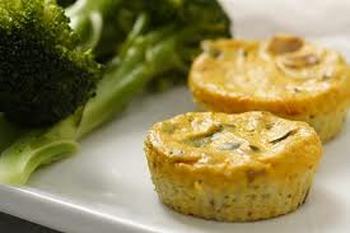 This basic recipe for a crustless savoury tart is one of the easiest and tastiest versions around. It can also be used for small individual tarts baked in muffin pans. Served with a substantial salad on the side it is perfect for a light lunch or evening meal.The different variations on this recipe are almost endless. You can use leftover cold meat, canned tuna or smoked snoek, and even stir-fried vegetables for a vegetarian version. The custard can also be flavoured to suit your taste - just be creative!
---
Ingredients:
3 hard boiled eggs, finely chopped
1 packet bacon, diced
250gr smoked viennas, diced
2 cups cheddar cheese, finely grated
1 large tomato, finely diced
10ml parsley,finely chopped

500ml milk
2 eggs, beaten
2,5ml salt
2,5ml paprika
15ml mustard powder
60ml maizena
_____________________________________________________________________________________


Method:
Mix the diced bacon, chopped eggs, viennas, tomato, parsley and grated cheese.
Add the eggs, salt, paprika, mustard and maizena to milk and beat well.
Pour over the mixed ingredients and mix well.
Pour this mixture into a prepared oven proof dish and bake in moderate oven for ± 30 minutes until golden brown.