Shortcrust Pastry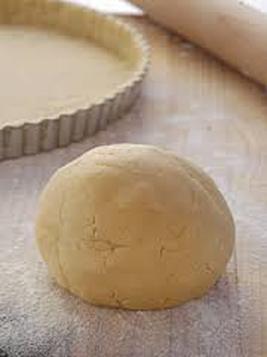 Shortcrust pastry is a light and crumbly pastry. It can be used for either sweet or savoury fillings and is very versatile and handles easily.
As with other pastries it is essential that the pastry should not be warm, well refrigerated, well rested between rollings and handled lightly.
Oven temperatures are also important, but you will have to experiment a bit as ovens can vary a great deal. Baking in a thermofan-oven sometimes require a slightly lower temperature. Knowing your oven helps a lot to get an even and consistent bake. Oven temeratures vary a lot and recommended temperatures are just a guideline. Thermofan baking temperatures are usually a bit lower - 5 to 10 degrees - depending on your particular oven. A little experience will soon help you to bake perfecte pastries.


---
Ingredients:
Recipe 1:
A light pastry with a good crumb.
300g plain (all-purpose) flour
145g butter
2–3 tablespoons iced water

Recipe 2:
A richer melt in the mouth pastry.
250 g flour
225 g salted butter, very cold and cut into small cubes
30-60 ml ice water

For a sweet pastry add 30 ml castor sugar.




Method:
Process the flour and cold buttercubes in a food processor until the mixture resembles fine breadcrumbs. Turn out into a mixing bowl and add just enough iced water to form an almost smooth dough. Knead very lightly, shape the dough into a rectangular shape, then wrap the dough in plastic wrap and refrigerate for 30 minutes. When ready to use, roll out on a lightly floured surface until 3mm in) thick. Makes 350g, which will line up to a 25cm pie dish or tart tin. Bake blind.

To bake blind: to produce a crisp tart shell ready to be filled with wet ingredients. Line the pastry tin with the pastry and prick the bottom with a fork to prevent it rising unevenly. Top the pastry-lined tart tin or tins with a piece of non-stick baking paper that extends past the edge of the tin. Fill with pastry weights or uncooked rice or beans. Place on a baking tray and bake in a preheated 180̊C oven for 10 minutes. Remove the weights and paper and bake for a further 5 minutes or until the pastry is golden.