Easy Seed Loaf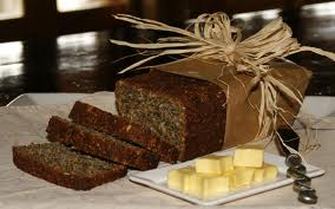 This is a very easy recipe and virtually foolproof. The seeds and honey make it a healthy, tasty and delicious bread. No kneading, proving or knocking back is required - it couldn't be easier.
This recipe makes one large loaf or two 20cm loaves.
The seeds used as a topping makes it an attractive bread and perfect for a picnic or braai.
---
Ingredients:
600gr Nutty Wheat
10gr instant yeast
5ml salt
30ml sesame seeds
15 ml poppy seeds
60ml sunflower seeds
500ml lukewarm water
30ml sunflower oil
30ml honey
seeds to sprinkle over the top before baking



_____________________________________________________________________________________

Method:
Sift flour and salt together. Add remaining husks back into the flour. Add the instant yeast and seeds to the flour and mix.
Mix water, oil and honey. Add to the dry ingredients and mix well. Depending on the flour you might have to add a little more water (50 ml) to make a sticky wet mixture.
Spoon mixture into one large or two smaller greased bread pans. Cover with clingfilm and leave to prove for 45 -60 minutes until well risen. Wet the top slightly with water using a brush or sponge - This will make the seeds stick to the dough and give a crisp crust. Sprinkle seeds over the bread to decorate and press lightly into the dough.
Bake in pre-heated oven at 200°C for 40-45 minutes.