Crusty Pie Dough with Onion Rings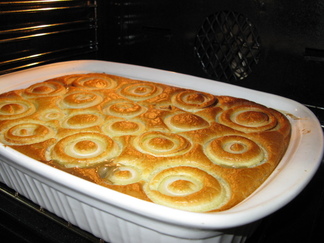 Quick, easy and delicious. This pour over batter has a light texture and is very attractive when garnished with onion rings before baking.
It is suitable for any quick meal and transforms any filling, even leftovers, into a wonderful pie.
Make sure the filling has enough sauce to be mopped up with the crusty topping.



---
Ingredients:
125 ml milk
125 ml sunflower oil
1 egg
110gr cakeflour (200ml, unsifted)
10 ml bakingpowder
1 pinch of salt
2 onions, cut into rings


Method:
Combine all the ingredients, except the onion rings together.
Pour the mix over the pie filling.
Arrange the onion rings in a decorative pattern on top of the dough.
Bake for approximately 25 minutes in a pre-heated oven at 200̊C untill golden brown.