Tomato Bredie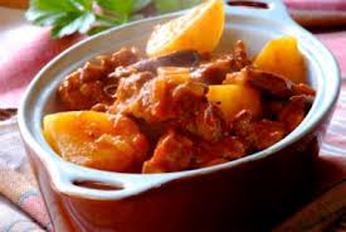 There are few things as homely as a real traditional bredie. With the cold spell this weekend and loads of tomato reduction in the freezer, this is the time to make this typical South African dish to warm everyone's senses this evening.
Light the fire, open a bottle of red wine and enjoy this hearty meal with your family or friends. It is a great dish for entertaining a few people without too much fuss and it is sure to please everyone. Simply serve with rice and a mixed salad, and maybe a freshly baked bread to mop up the last remains of the sauce.
---
Ingredients:
2 kg stewing lamb (shin cut into short lengths, ribs cut into pieces, necks chops and belly pieces - don't remove the fat, it add to
the flavour and balances well with the
acid from the tomatoes)
2 large onions, roughly chopped
1 heaped teaspoon crushed garlic
salt and pepper to taste
cooking oil to brown the meat
6 medium potatoes, peeled and cut into quarters
2 liters tomato reduction (if not using your own, substitute with 1kg fresh tomatoes and 50gr tomato paste and 500ml beef stock)
10-15 ml dried basil
1-2 tsp sugar




_____________________________________________________________________________________

Method:
Season meat with salt and pepper to taste.
Brown meat in a heavy based ovenproof casserole. Add onions and fry till soft. Add garlic and fry.
Add 750ml stock, and bring to a slow boil.
When meat becomes tender (after 2-3 hours) add the tomato reduction, or fresh tomatoes and 50gr tomato paste, basil and let cook through. Start adjusting the seasoning.
Add potatoes (the acidity can cause them to take fairly long to go soft). Parboiling them is a good option.
When the bredie has simmered and the flavours start coming together the sauce might need thickening. The best way is to mix 60 ml flour with a little water to form a thick paste. Add some hot sauce to the paste and mix well. Add more sauce until thin and smooth. Pour this mixture back into the bredie and stir well. Bring to the boil until it thickens, let it cook through for a few minutes.
Serve with rice, salad, fresh crusty bread or whatever takes your fancy - and don't forget the wine and good company - this pleasure is to be shared!