Creamy Cauliflower and Blue Cheese Soup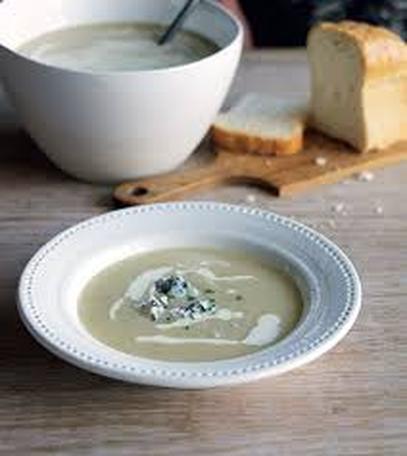 A Delicious light and creamy soup, thick and rich with a velvety texture.
Add the blue cheese according to taste - it must be a subtle flavour to enhance the cauliflower and not to overpower it.
This recipe is quite large and should yield 3-4 litres of soup.
It freezes very well and is ideal for a starter or light main course.
Garnished with finely chopped chives, crumbed blue cheese and cream it makes an elegant starter for any dinner party - just make sure the blue cheese does not overpower the flavour.
Serve with croutons or a french baguette.



---
Ingredients:
2 heads of caulilower
1 large onion, chopped
15 ml crushed garlic
60 ml butter or olive oil
1 litre water
2 - 3 chicken stock pots
1 litre full cream milk
15 ml lemon juice
salt and pepper to taste
30 - 45 gr blue cheese (or more according to taste)
_______________________________________________________________________________________



Method:
Wash cauliflower and break up into florets.
Heat butter or oil and gently sweat the onion and garlic till soft but not browned.