Chicken Liver Pate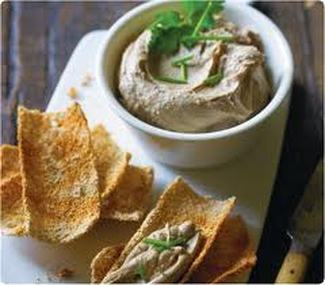 Homemade pate is simply superior to anything you can buy. Made fresh with only a few of the best ingredients, and seasoned to your own taste, will make this recipe a firm favourite in your home. It is quick, economical and delicious. It will last at least a week in the refrigerator.
Made in individual ramekins it can be served with brushetta or melba toast as an elegant starter for a dinner party, but it also works well for an al fresco brunch combined with onion marmelade, pickles and freshly baked bread.

---
Ingredients:
500 gr chicken livers, cleaned and all
sinews removed
1 large onion, peeled and roughly diced
1 bay leaf
15 ml finely crushed garlic
200 gr butter (salted is fine)
30 ml pale dry sherry
100 ml fresh cream
salt and pepper to taste or 10 ml garlic and herb seasoning (Ina Paarman's works well)


Method:
Wash and clean the livers and remove all possible sinew.
Chop the onion, add the bayleaf and gently sautee in a frying pan in 100 gr butter until translucent. Remove the bay leaf and add the chopped garlic and sautee for a few moments longer.
Add the chicken livers and increase the heat to a good simmer. Simmer until done.
Remove pan from the heat and transfer the livers to a blender. Add the sherry and cream and blend till very smooth and velvety.
Check the seasoning and add salt (if necessary) to taste. It should be on the salty side because when served cold it somehow needs it.
Pour into a ceramic dish or individual ramekins and refrigerate. The flavours will be better the next day if allowed to develop overnight.