Green Beans with Garlic Beurre Blanc and Roasted Almonds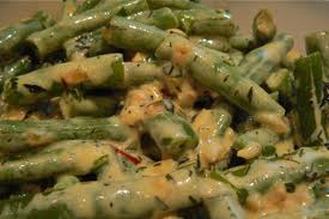 Green beans, butter and garlic are soulmates on a plate. Add roasted almonds and the trilogy will take you to food heaven!
Use young green beans and make sure not to overcook them - the microwave usually does and excellent job on the verge of blanching and cooking.

---
Ingredients:
400 gr fresh green beans - young and tender
200 gr butter
30 ml flour
milk to bring the sauce together (approx. 150-200ml)
15 ml crushed garlic - or more if you like.
10 ml lemon juice
garlic and herb seasoning to taste.


Method:
Steam the green beans untill just done. If made in advance refresh them in cold water to reheat later, but they are best prepared and served immediately.
For the sauce: Melt butter in a saucepan, add garlic and simmer for a minute or two to infuse flavour. Add flour and cook through. Slowly add milk whilst whisking continuously to incorprate butter into the sauce. Add seasoning to taste.
Roast almond slithers to a good golden brown and nutty flavour.
To serve: Place greeen beans in a serving dish, pour sauce over and mix through. Sprinkle roasted almonds over and serve.