The Chef"s Kitchen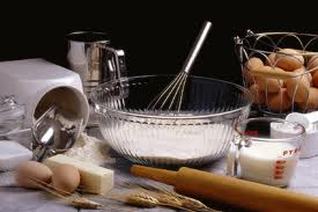 The Chef's Kitchen - this is where it all happens - it could be your personal heaven or hell. This is also a place where you can make expensive mistakes only to regret it later. But there is no need for this to happen - just follow your instincts, advice from fellow fundi's and don't always believe the salesman or lady. A good dose of common sense will certainly keep you out of trouble.
To make life easier for the home chef there are a few basic utensils and appliances that are necessary to work efficiently and economically whilst still enjoying some of the more laborious chores of food preparation. When buying appliances or utensils try to get the best possible one you can afford. Just beware - the most expensive is not always the best.

Blenders: There are two indispensable ones you will need. A large jug blender is the only way to really get ingredients, especially soups, smooth and silky. A good jug blender will also eliminate the need to pass everything through a fine sieve.
A good stick blender, usually with a few optional attachments is ideal for blending ingredients in the pot. The end result will hardly be fine enough for certain soups or purees, but it is absolutely ideal for chutneys and reduced sauces. The attachments will also do a great job of chopping, from breadcrumbs to onions, although only in small quantities.
Food Processors: Here you can break the bank in the wink of an eye - but it is hardly the item I would spend all my money on. Sure, my wife uses it to churn butter, mix and knead dough, and I use the mincer attachment to make salamis, but only because we happen to have one. For the home cook this expensive piece of machinery is hardly necessary - kneading is part of being a cook, and the whole process is as good as a therapy session with your shrink.
Pasta Machines: There aren't many options or models available, but the hand models available do a pretty good job of making perfect pasta - and you will save a lot of money. The end result is so far superior to anything you can buy that you will fall deeply in love with making your own. Lasagne, tagliatelle and fettuccini will never be the same again. So, go out and buy one!
Hand beaters: There are as many models available as there are brand names - they all seem to do a great job, so choose just about anyone you like - certain brands are more expensive than others, so the decision is entirely yours.
Knives: This is one department where mistakes can cause a lot of frustration. Apart from being the right knife and of excellent quality, it also has to be the right knife for you. The size, shape, grip and the way you work should all be in harmony. A good knife, or rather the right knife, must almost be a natural extension of your hand. It will give you good control, not tire your hands and wrists, and give you the perfect cut every time. It will also cause less injuries if it fits well into your hand and way of working. Complete sets are often not the way to go - they are usually very expensive and you usually end up only using one or two particular knives and the others just clutter your kitchen. The best way to buy knives is to buy one or two high quality knives that really work for you, and don't be shy to spend money on a good sharpener - the type many butchers use are available at most large butchery supply firms.
Utensils: They are relatively inexpensive and come in many different colours, materials and sizes. Choose whatever works for you. Whisks should be sturdy and preferably stainless steel, they do a hard job and should be able to last long. Spoons, ladles and egg lifters should be the right size for you, made of the right materials for the the job at hand.
Pots & Pans: Once again buying individual items could be the right way to go - but sometimes complete sets are better buys. Whichever route you go, make sure that quality is the only guideline. These are expensive items and should last a lifetime - so spend good money and enjoy it for the rest of your cooking days. High quality stainless steel and heavy based seems to be the guideline, Shape and size should fit your particular needs. Also make sure that they can go from the hob to the oven. Many have handles and lids that are not suitable for the oven. A common mistake is usually to end up with too small or too few. Start building from a medium size up or down as you see the constant need arises in your way of cooking. Teflon coated pans and pots are very popular, but these coatings have a limited lifespan and need particular care - but they are great for the odd pan or two.
---