Tiramisu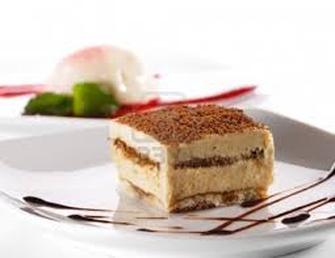 This is certainly one of the most well-known and loved Italian desserts. It is light, satisfying and the perfect end to almost any meal.
It is really easy to make and can be served as a large dessert or individual portions. Made in advance it takes the last minute rush out of entertaining and leaves you with more time to enjoy your guests.
Depending on the formality of the meal it can be served as individual portions, beautifully plated and decorated - a most elegant dessert for the perfect ending to your dinner party.
The recipe can be doubled and the layers repeated for a really impressive dessert. Serves 4 - 6 or 8-12.
---
Ingredients:
125 ml strong black coffee
62,5 ml brandy
2 eggs, seperated
125 gr boudoir biscuits
25 ml castor sugar
10 ml brandy
250 gr mascarpone cheese
cocoa for dusting






_____________________________________________________________________________________

Method:
Mix coffee and 62,5 ml brandy. Dip the Boudoir biscuits briefly on both sides and place in a dish to line the base. Sprinkle remaing mixture over the biscuits.
Beat the egg yolks and sugar till light and creamy. Add 10 ml of brandy and Mascarpone to the egg mixture and blend well.
Beat egg whites till stiff peaks and fold into the cheese mixture.
Pour over the biscuits and even out. Dust cocoa powder over the mixture to cover it evenly.
Put into the refrigerater for at least 6 hours or overnight.
For individual portions cut into squares, decorate with a drizzle of chocolate sauce on the plate, whipped cream and anything else that takes your fancy.