Orange Sponge Pudding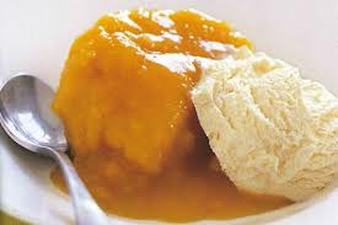 This is a true winter warmer for the serious orange lover. It has a lovely balance between sweet and slightly bitter and hits all the right spots.
It is dead easy to make, although the method is slightly unconventional. The sponge rises well and is best baked in a fairly large dish - about 30 x 20 cm.
Served with a good creamy custard and vanilla ice cream it takes you straight to orange heaven.

---
Ingredients:
For the sponge:
1 nice large size orange
4 eggs
250 ml sunflower oil
500 ml flour
500 ml sugar
10 ml baking powder
pinch of salt

For the syrup:
250 ml orange juice
250 ml sugar




_______________________________________________________________________________________

Method:
Cut the orange into segments and remove any pips. Keep the peel of the orange on. Cut it into cubes and place it in a blender. Add 125 ml orange juice and blend well until fine, then add the eggs and oil and blend well.

In a bowl measure the other ingredients and add the blended orange mixture to this. Mix it well and pour it into a prepared baking dish.

Bake at 180 C for approximately 40-45 minutes until a tester comes out clean.

Bring the sugar and orange juice syrup to the boil. When the sponge is baked use a skewer to prick holes into the spoge and ladle the syrup over. Make sure it absorbs evenly.

Serve hot with custard and/or ice-cream.