Crepes - Pancakes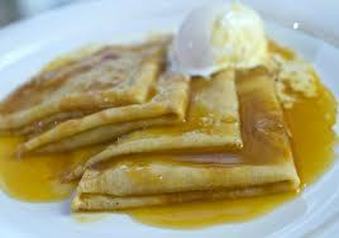 What would any South African bazaar be without a 'pannekoek' table. Served with sugar and cinnamon it is certainly one of the most beloved items at these occasions. They have raised funds for old-age homes, orphanages, built churches and delighted many of us on many an occasion.
Dressed up we call them crepes - Crepes Suzette being the most famous and iconic version of the ordinary pancake. They are also suitable to be filled with a savoury filling, being it meat or vegetarian, and covered with a rich bechamel sauce. Whatever you like, a good recipe is always needed to ensure perfect results.
---
Ingredients:
4 eggs
1,25lt water
250 ml sunflower oil
50 ml vinegar
5 ml bicarbonate of soda
5 ml salt
525gr cake flour
20 ml baking powder

Method:
Beat the eggs well, add 250ml of the water, oil and vinegar, Beat well, and bicarbonate of soda, salt and flour alternately with rest af water. Add baking powder last. Mix well.
Leave to rest for 30 min to 1 hour.
Add a few drops of oil to a medium heat pan to bake the first pancake.
Bake the rest without adding oil.
Yields about 30 medium sized pancakes.
Serve with cinnamon sugar, lemon curd or ice cream.
For savoury pancakes fill with bolognaise sauce, spinach and feta, chicken and mushroom or any other combination. Cover with a rich bechamel and grated cheese, bake till golden brown and serve with a green salad.
_____________________________________________________________________________________