PUNJABI CHICKEN BIRYANI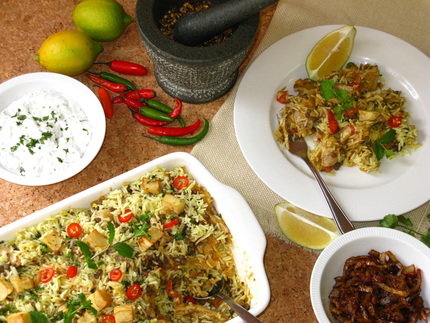 This traditional chicken dish comes from Pakistan and India. The cultural mix between these two countries ensures that this dish will fill your kitchen with the most wonderful warm aromas of Punjab.
This is a truly magnificent one-dish meal that can be made on the stove or in the oven.
Traditionally Biryani can be divided into two categories:
Pakki - the meat and rice is pre-cooked and finished of in the oven.
Katchi - the meat and rice is placed in the dish and cooked in the oven or the stove. This takes a bit longer and requires a bit more skill to get it just right.
With the change of season comes all the flavours and aromas that welcome the approaching winter. Not that this is only a winter dish - it is really good enough to eat all year round! Although there are a few steps to follow it is quite easy and really delivers an abundance of taste and flavour!

---
Ingredients:
2kg chicken thighs and drumsticks
750 ml chicken stock, salt salt and pepper to taste
2 onions, finely chopped
2 small chillies, finely chopped
8 cardamom seeds, crushed
10ml ground coriander
10ml ground cumin
10ml paprika
5ml turmeric
45ml Biryani Masala (wet mix)
5ml garlic/ginger paste
5ml sugar
5ml chilli flakes
2 tomatoes, cubed
250ml yoghurt
375ml basmati rice
45ml rice spice with onion flakes
125ml lentils
3 potatoes, peeled and cubed in 2cm cubes
2 onions, thinly sliced
ghee/oil to stir fry






_________________________________________

Method:
Cook chicken in the stock until just done. Let cool slightly and debone the portions. Keep the pieces fairly chunky. Put pieces in a bowl to marinate.
Heat a little oil in a frying pan and fry the onion, chilli, all the spices and tomato over medium heat to release the flavours and aromas. Add the yoghurt and mix through. Pour the marinade over the chicken pieces and mix through. Place in the refrigerator for 4-6 hours.
Boil the lentils until just soft. Add salt and boil for another two minutes. Drain water and let cool.
Put rice and rice spice in a pot with water and slowly bring to the boil. Once boiling remove from the stove and drain. Pour a little oil or ghee over and mix through.
Assemble dish in an ovenproof dish. Start with a layer of half the chicken. Then half the lentils and then half the rice. Repeat. Cover the dish and place in a 160C oven for 45-minutes to heat through and gives flavours time to marry.
Deep fry the potatoes until golden and crisp.
Fry onions till nicely browned and crunchy.
Remove Biryani from the oven and top with the potatoes and onions. Garnish with fresh coriander leaves and thinly sliced chillies.
Serve with a yoghurt raita with finely chopped fresh mint and coriander.
_________________________________________