Pickled Fish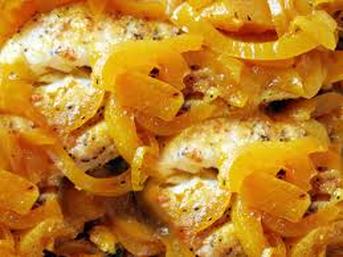 Kingklip, Yellowtail, Deep-sea Hake - any firm fish will be good and make excellent Pickled Fish. It is a firm favourite and ideal for the summer months to serve as a starter, a main course for lunch or part of a summer buffet.
It keeps well in the refrigerator for many months and is an ideal way to preserve abundant fish when it comes your way.
Serve with a green salad and freshly baked bread - be it a Seed Loaf or a Ciabatta - truly delicious!
---
Ingredients:
30 ml olive oil
5 large onions, cut into thin rings
1 x 3 cm piece fresh ginger, grated
4 cloves garlic, crushed
45 ml mild curry powder
15 ml tumeric
6 bay leaves
4 cloves
7,5 ml whole allspice or allspice powder
7,5 ml coriander seeds
7.5 ml whole cumin or cumin powder
2 large pieces of cinnamon
750 ml white vinegar
300 g sugar
2 kg kingklip, deep-sea hake fillets, kabeljou or any other firm fish cut into small portions
Sea salt and freshly ground black pepper
Flour, for dusting
Sunflower oil for frying fish
____________________________________________________________________________________

Method:
In a stainless-steel saucepan over a medium heat, add 30 ml olive oil and, when hot, gently sauté the onion until translucent. Add the ginger, garlic and spices and fry gently for a few minutes, or until fragrant.

Add the vinegar and sugar and stir until the sugar has dissolved. Simmer for 20 minutes. Meanwhile, dust the fish with the seasoned flour and pat off any excess.

Heat sunflower oil in a heavy-based frying pan and, when hot, fry the fish until golden but still succulent.

Place a layer of fish in a deep sterile glass or non-metallic container and pour a little of the hot sauce over it, to cover. Continue layering fish and sauce until all the fish is covered. Cool, then chill until ready to serve.