Carrot Cake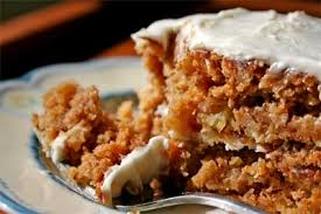 Carrot Cake is certainly an all time favourite. There are as many recipes for a good carrot cake as there are bakers, but this recipe is one of the best. It is lovely and moist with a good crumb and texture, and almost foolproof as well.
The frosting has just the right sweet-sour tang to it and makes this cake a real showstopper.
Bake in a traditional ring pan, a round cake tin or even a loaf tin.

---
Ingredients:
500 ml cake flour
10 ml bicarbonate of soda
5 ml salt
5 ml cinnamon
500 ml sugar
310 ml oil
4 eggs
750 ml carrots, finely grated
310 ml walnuts, chopped
310 ml pecan nuts, chopped
30 ml ginger, finely chopped

Frosting:
2 x 250g cream cheese 400gr icing sugar
150gr soft butter
5-10ml lemon juice (according to taste)



Method:
Preheat the oven to 180°C.
Greas two 20cm baking tins or one large ring pan or two bread pans. Dust with flour or line with baking paper.
Mix the flour, bicarbonate of soda, salt and cinnamon.
Beat the sugar, oil and eggs well till light and creamy.
Stir in the dry ingredients.
Add the grated carrots, nuts and ginger and mix well.
Pour batter into prpared tins and bake for 40-60 minutes till done.
Cool for 10 minutes and turn out onto cooling racks.

Beat the creamcheese and butter together, add the icing sugar and continue beating. Add the maple syrup and beat well.
Refrigerate the icing for at least three hours before decorating the cake. The cake can be cut into two layers if preferred.

The cake will develop in flavour and will be even better if served the next day.