Willemien's Peach Chutney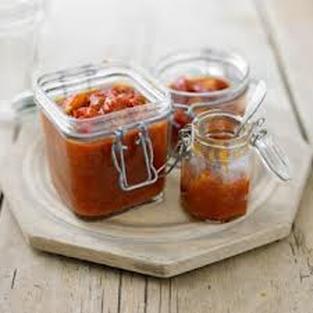 When peaches are in season we are really blessed. Our neighbours farm with a variety of apricots and peaches and and we really have pick of the crop. This is when it is time to stock up for the year - canned peaches, peach atchar and chutneys.
Chutney made from fresh fruit has a slightly milder, yet fresher taste than the dried fruit counterpart. Making your own allows you to make it as hot or mild as you like, spice it up with additional fruits and spices - anything you like.
Willemien, our neighbour, came up with this recipe and it is really delicious.

---
Ingredients:
16 ripe cling peaches
5 Golden Delicious apples
2 onions, finely chopped
1 clove garlic, crushed
250 ml apple vinegar
400 ml brown sugar
4 allspice seeds
8 black peppercorns
4 cloves
5 ml ground cumin
5 ml curry powder
2,5 ml cayenne pepper




Method:
Peel the peaches with a vegetable peeler. Cut the flesh from the stone and chop roughly.
Peel the apples and remove the kernel and chop roughly.
Heat the onion and garlic for approximately 10 minutes in 50 ml of the vinegar. Add the rest of the ingredients, except the remaining vinegar. Heat gently whilst stirring until the sugar has dissolved.
Add half of the remaining vinegar, increase the heat and simmer for one hour.
Add the rest of the vinegar and simmer for another 30 minutes.
For a slightly smoother chutney blitz it lighly with a stick blender.
Use a funnel and pour the boiling chutney into sterilised bottles.
Make sure all air bubbles have escaped before sealing.
Leave for at least a week for the flavours to blend.

Serve with cold meats, at a braai, with spicy curries or as a relish with a selection of cheeses.