Rogene's Red Chicken Casserole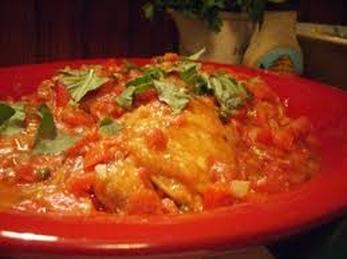 This easy basic recipe of my wife is delicious as is, but lends itself to many variations. Raid your fridge or freezer and get creative - it will almost always be a personal triumph.
Thighs and drumsticks make for a juicier dish, but for those who prefer breast meat, it will still work. Once you've made the basic recipe you can adjust it in almost as many ways as you like to suit your own style and taste.
Serves 4.
---
Ingredients:
8 Chicken portions - thighs and drumsticks remain moist and juicy.
1 cup flour
10 ml mild curry powder
salt, pepper and Aromat

Sauce:
1 chicken stock cube, diluted in 2 cups of water.
1/2 cup chutney
1/2 cup tomato sauce
5 ml tobasco sauce


_______________________________________________________________________________________

Method:
Wash portions thoroughly and pat dry.
Season well with salt, pepper & Aromat.
Roll portions in a mix of 1 cup flour and 2 teaspoons of curry.
Place alongside each other in a large enough casserole. Spoon the sauce over to cover all the floured areas.
Bake covered at 180°C for 45 minutes.
Remove lid and bake another 30 minutes at 160°C until nicely browned.
Remove chicken pieces, keep warm and drain excess fat of sauce. Thicken with a little flour mixed with water/wine/cream.
Serve with rice and roasted vegetables, or in summer with savory rice a crisp and colourful green salad.