Warm Water Pastry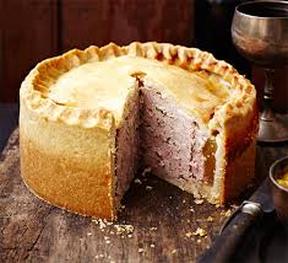 This is a strong pastry and is ideal to use for pies with a heavy filling such as the well known traditional pork pie. It is dead easy to make and handles easily.
For the perfectionist baker it is the ideal pastry to use as a base, and topped with a light puff pastry for a truly magnificent pie.
Once baked it is strong, with a good crumbly texture, and will hold its shape, making it ideal for meaty fillings - chicken, pork, beef or venison.

---
Ingredients:
250 ml boiling water
250 gr butter (or margarine)
500 gr self raing flour
150 gr cake flour
5 ml salt


Method:
Melt butter in boiling water.
Sift flour and salt together and mix with water and butter mixture to form a soft dough.
Wrap in clingfilm and refrigerate for an hour until cold.
Dust the working surface and roll out to a 3mm thickness.
Line a pastry dish or muffin pans and fill with pie mixture.
Top with another layer of dough.
Glaze with a beaten egg wash.
Bake in a preheated oven at 200°C for 20 minutes or untill golden brown.

_______________________________________________________________________________________