Chicken Soup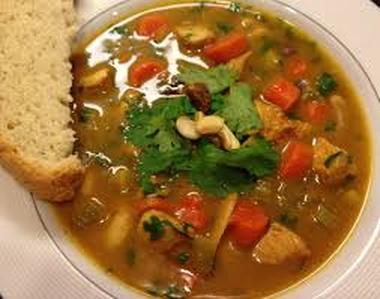 There are as many recipes for chicken soup as there are cooks. This one is delicious with an asian flavour.
It is quite a watery soup with little bits of everything floating around, but it is full of flavour and delicious.
Make it as hot and spicy as you like, add more chillie seeds if you like it really hot and spicy.
Garnish with chopped chives and serve with any bread of your choice.
Make a large quantity as it freezes very well.

---
Ingredients:
4 chicken portions with skin (2 thighs, 2 drumsticks)
2,5 litres water
oil to fry onions and garlic
2-3 onions medium, finely chopped
2 leeks, washed and cut into thin rings
125 g mushrooms, sliced
3 cloves of garlig, thinly sliced
15 ml ginger, very finely diced
1-2 red chillies, seeds removed (for extra heat leave some seeds)
2-3 celery stalks, finely chopped
1 bunch of chives, finely chopped
salt and pepper
90 ml parsley, finely chopped
2 large carrots, diced or julienned
3 chicken stock pots
15 ml honey
30 ml soy sauce
10 ml tumeric
60 ml lemon juice
_______________________________________________________________________________________

Method:
Place chicken in a pot and cover with just enough water. Bring to the boil and simmer for approximately 1 hour.
Wash and clean all vegetables. Prepare, slice and dice.
Heat oi in a large pot and fry onions and garlic, add mushrooms and fry over medium heat. Add ginger and chilliesand fry for another 2-3 minutes.
Add all the other ingredients, with remaining water, and bring to a soft boil .
Remove chicken and let cool slightly. Remove from the bone and cut meat and skin into small bite sized pieces. Add to the vegetables.
Drain cooking liquid from the chicken through a sieve and add tot the chicken and vegetables. Add the stock pots, honey, soy sauce and lemon juice. Boil over medium heat for another 10 minutes. Adjust seasoning.
Garnish with thinly chopped chives sprinkled over the soup. Enjoy!