Chicken Orange Casserole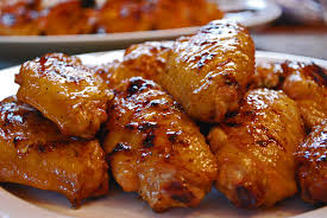 Not quite as good as the iconic French Duck a l'orange, this is an excellent second best for everyday homecooking. It is quick, easy and very economical and leaves room for any adjustments you might like to add - it is a very good basic recipe indeed!
Serve with rice and any vegetables of your choice.
Variations can include the finely grated and chopped rind of an orange for a more intense taste, seedles raisins and even a touch of freshly chopped ginger.

---
Ingredients:
8 chicken portions (thighs and drumsticks)
salt and pepper
50 ml oil
375 ml orange juice
37,5 ml chutney
12,5 ml brown sugar
5 ml curry powder
2,5 ml cinnamon
1 orange rind, finely zested and chopped
125 ml flour




_______________________________________________________________________________________


Method:
Wash chicken portions and dry. Spice with salt and pepper.
Mix flour, cinnamon and curry powder and rol portions in it.
Greas an ovenproof casserole with a little oil and place chicken portions in it.
Mix the orange juice, zest, chutney and brown sugar. Stir till sugar has disolved.
Pour sauce over chicken and bake for 1 1/4 hour at 180°C.
Turn portions after 30 minutes baking and baste with sauce.
After another 30 minutes turn again and baste.
Bake open for last thirty minutes.
Remove chicken and keep warm. Drain excess fat from sauce and thicken sauce with a little flour. Bring to the boil and add a little cream for a richer sauce. Sieve sauce to remove any lumps.