Pulled Pork with BBQ-sauce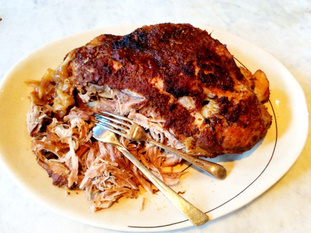 Pulled pork is currently very fashionable amongst foodies. Although fairly new on our culinary scene, it is quite traditional in the USA, Italy, Korea and Thailand.
With the compliments of Errieda du Toit, our own celebrity 'Huiskok', this is a must recipy for any foodlover. The pork is soft and succulent, and the spicy rub is as good as it gets.
The BBQ-sauce is an absolute triumph - only the utmost willpower will keep your fingers out of the bowl!

---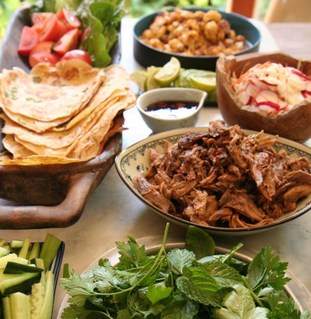 Pulled Pork (10 generous portions)
Ingredients:
1 Shoulder of Pork (2,2kg, bone in, skin and layer of fat removed)
Rub mixture:
15 ml brown sugar
10 ml ground cumin
10 ml paprika
7.5 ml dry mustard powder
7.5 ml salt
5 ml pepper
15 ml olive oil for roasting

---
Poaching Liquid:
2 carrots, peeled and chopped
2-3 onions, peeled and chopped
4 cloves garlic, peeled and crushed
1 can Lager beer
1 tin chopped tomato
3 bay leaves (optional)

Method:
Mix all the rub ingredients together and rub it into the shoulder of pork. Leave to rest for 30 minutes.
Heat the olive oil in a roasting tray over medium- high heat and brown the shoulder all round, about 3 minutes per side.
Remove the pork and set aside.

Add all the poaching liquid ingredients to the roasting tray and deglaze.
Put the pork back into the liquid and cover with lid. Braise in the ovem for 3 ½ -4 hours at 160°C until meat is very tender and comes off the bone easily.
Remove meat from roaster, keeping the sauce.
pull the meat with two forks or by hand once cool enough to handle.
Meanwhile reduce the poaching liquid to about 2 cups.
Mix the reduced liquid with the pulled pork.
Refrigerate if used the following day.

To serve: Serve hot with home-made BBQ-sauce, chive pancakes, soft breadrolls, tacos, coleslaw, mayonnaise, pickles, cucumber, salad leaves, fresh coriander and grated white cheddar.

BBQ-sauce (essential with pulled pork)
Ingredients:
300 ml tomatosauce (like All Gold)
80 ml dark brownsugar
30 ml molasses
2 cloves garlic, finely grated
60 ml apple cider
30 ml Worcestershire sauce
10 ml paprika
5 ml pepper
5 ml mustardpowder
pinch of cayenne pepper
shake or two of Tobasco
_______________________________________________________________________________________


Method:
Mix all the sauce ingredients together in a medium sized saucepan or pot.
Stir through and bring to a gentle simmer and cook for about 12 minutes untill it is thick and dark.
Serve in a seperate bowl with the Pulled Pork.