Welcome to My Country Cooking.
Here you will find all time favourite recipes, some new ones, even a few classics and anything in between. Cooking tips will help you to take shortcuts and how to make the most of what you have. The ingredient section will add techniques and suggestions as produce comes into season. The recipe index will expand as new recipes are regularly added to this site. Use the bar menu above to navigate to the different sections.
This posting is an invitation to join me on a culinary journey this season - trying new recipes, enjoying old favourites and sharing them with family and friends.
If you have a very special recipe or two that you would like to share and have posted on this site, I would happily do so - be it something special for breakfast, lunch, dinner or just something in between. Send your recipes to
mycountrycooking@gmail.com
___________________________________________________________________________________________________________
Roasted Tomato and Sweet Palermo Pepper Soup
Taking the humble tomato to new heights
It is really a wonderful surprise when an ordinary ingredient is presented in an extraordinary way.


---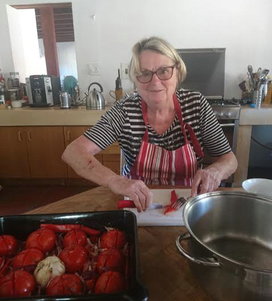 Paul and Corine Leeuwerik are our neighbours and the owners of the Olifantsberg Family Vineyards. Paul is into the winemaking side producing exceptional wines, but it is Corine's culinary skills that tempted me to make one of my least favourite dishes - cold tomato soup!
Having dinner with them one evening she served this soup as part of a trio of starters. The melon and parma ham was lovely, the smoked salmon terrine was equally good, but it was the tomato soup that was an absolute revelation. The main course of coq au vin was sensational, but it was the soup that stole the show. Good enough for me to ask her for the recipe. I got the recipe - and more - a masterclass in her own kitchen on how to make it.
---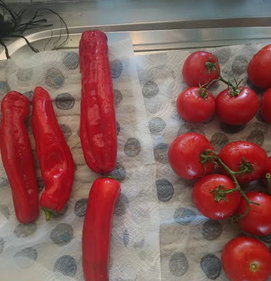 As with most dishes that rely on one or two main ingredients it is vitally important to use the best quality ingredients possible. Vine ripened tomatoes and supersweet palermo peppers. They simply burst with flavour, especially after being oven-roasted with the other ingredients.
The soup has a wonderful rich flavour and texture. Serve it as an amuse-bouche, as part of a trio of starters or simply on its own.
Recipe: Roasted Tomato and Sweet Palermo Pepper Soup
_______________________________________________________________________________________
---
What's all to do this Week?
Hi, I am André Brand. I'm a food lover, recipe book addict,experimental cook, novice pastry maker, farmer, gardener and my own 'masterchef' at home. Living on a farm in the beautiful Brandwacht Valley just outside of Worcester is certainly a privilege. Here we have access to the best fresh and local produce and our own vegetable and herb garden - all making my motto possible -

"Cooking is a celebration of life!"

---

Shop around for those cheaper cuts of meat and weekly specials - there are still some good buys around if you shop around. Even if you don't instantly have a recipe at hand, if it is reasonably priced, buy it. Finding a good recipe is easier than it used to be - the internet has a million options at your fingertips and you will soon find your favourite and reliable sites - be brave and try something new, it might just change your life.

Take some leisure time to browse through your collection of cookery books, or browse the internet to find new and exciiting recipes for your bulk or leftover ingredients - challenge yourself to come up with creative and new ideas to transform what you have into gourmet dishes - it might just be the beginning of an exciting new culinary journey.

A good selection of fresh vegetables will make life a lot easier if they are at hand. Find new recipes to make them really exciting. Explore new markets and street vendors - their prices and quality will amaze you! Try to buy a new ingredient every now and then and find a recipe for it - you might just discover your new favourite vegetable this way. Make your shopping an adventure rather than a chore. Enjoy!

Getting the herb garden and veggie patch ready for planting. It is a great joy when the harvest comes in - preparing, preserving and freezing the fresh ingredients makes all the effort worth while. Pickles, jams and chutneys to last a whole year. Having fresh herbs and vegetables is an absolute joy to cook with - especially if they come from your own garden.